"De Sims 2 op een onbewoond eiland" is de nieuwste Sims game voor de console/handheld. Sinds kort is het spel verkrijgbaar voor de console(Wii, PS2) en de handheld(PSP, NDS).
Productinformatie.
Help je Sims een compleet nieuw bestaan op te bouwen nadat ze zijn aangespoeld op een onbewoond, tropisch eiland.

Laat je niet kisten door de krachten der natuur, help ze succesvolle schipbreukelingen te worden en laat ze een comfortabel leven leiden in dit onontdekte paradijs. Verzamel tegelijkertijd aanwijzingen om je Sims terug naar de beschaving te leiden. Bouw onderkomens, maak unieke voorwerpen en ontdek allerlei nuttige schatten en oeroude mysteries diep verscholen in een overweldigende jungle vol planten, fruit en zelfs wilde dieren.

Je Sims moeten de uitdagingen van het eilandleven het hoofd bieden en leren in stijl te overleven.

Creëer een compleet nieuw leven voor je Sims op een onontdekt eiland in De Sims™ 2 op een Onbewoond Eiland.
Productweetjes.
Overleef!
Help je Sims hun basisbehoeften te vervullen zodat ze kunnen overleven.
Ontdek verschillende eilanden
Verken een groot aantal nieuwe omgevingen: stranden, grotten, lagunes, de jungle, vlakten en vulkanen.
Maak al je eigen spullen
Bouw een volledig nieuw leven op. Bedenk gereedschappen, bouw onderkomens, maak meubels, ontwerp kleding en maak kunst en muziek.
Jaag en verzamel
Vang vissen, zet vallen, kweek planten, verzamel schelpen, ga op strooptocht en ontcijfer schatkaarten.
Maak je leven leuk of ontsnap
Zorg voor een comfortabel leven op het eiland of zoek naar een manier om de beschaving te bereiken.
Stel een bemanning samen
Kies uit verschillende Sims: technicus, kok, arts, muzikant, onderwijzer, manager of parkwachter, elk met unieke Sim-humor en eigenaardigheden. Herenig de bemanning en bouw een bloeiende gemeenschap op
Zo ziet het algemene hoesje eruit: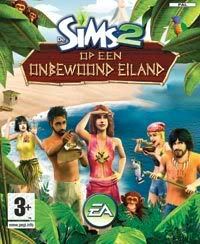 Meer Screens :
Simparool Gallerij
bron:
desims2.nl
diesims.de